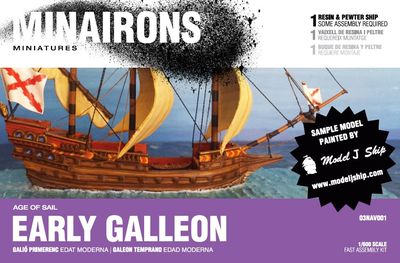 I'm excited to announce that the first model belonging to our new 1:600 scale Age of Sail Ships range is right now available and ready to sail toward ignote seas. As a matter of fact, some are already sailing toward some trusting in advance customers' harbours, while a handful else are on the way to Scale Creep headquarters too.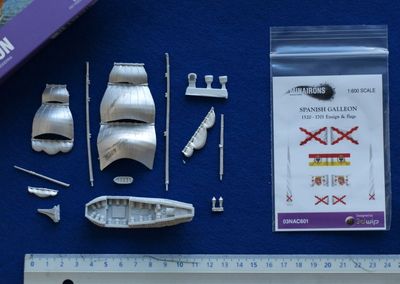 As you can see by the picture above, model can be considered as a 'fast build' one, because it consists of a maximum of 15 parts --some of which are optional, as stern lanterns and mast tops. Most of parts are white metal --except for hull, bow and mast tops, that are high quality resin cast. And last, model kit is complemented by a sheet with ensign, mast flags and jack for a Spanish Treasury Galleon --with several other, alternative flag sheets already available at our website, and many more on the way.
Please have a glance on a built sample, masterly painted by Julián of Model J Ship (worth to point out he chose a fore mast rigging option, with fully unfold sails, differing from the one actually in kit):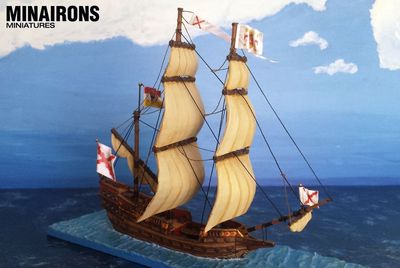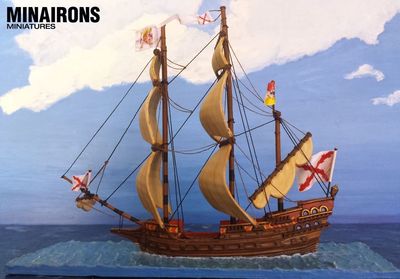 We're planning to expand this new range as fast as possible, with a second Galleon release next month, as well as a Man-of-war on workbenches right now. Besides, we've met an agreement with Skytrex Ltd. to retail their Triton 1:600 scale ranges (Armada, Renaissance Galleys and possibly Ancient Galleys too), that are going to add to our current availability of Peter Pig ships.